We hope you are doing well. We are continuously working hard and try out best to support your information as soon as possible.
Today's topic is:
・Daiwa Calorized Lance pipe, SS vs LL, what is this?
・Container maker in Vietnam
・Ao Dai - Traditional costumes in Vietnam
We are always with you.
Daiwa Calorized Lance pipe, SS vs LL, what is this?
Daiwa CA Lance, SS vs LL means Small and Short vs Large and Long.
We would like to introduce
・Large and Long size
Our customers are using our CA Lance Pipe with various applications.
We are producing these sizes regularly too.
Pic 1) ¾" x 1.3M   Used for tap hole opening purpose.
Pic 2) 1-1/2" x 9.0M Used for carbon and other material injection during steel making in EAF.
You can see the difference of the sizes.

Depend on customers requirement
We can produce Daiwa CA Lance minimum OD 13.8mm and maximum OD 60.0mm.
We use 40' dry container to ship for longer than 5.5Meter.
We will always do our best to serve for you.
Container maker in Vietnam
We facing the shortage of container by current Covid-19 situation. And many businesses reflect that the increase in freight rates makes export difficult, high inventories.
As you know China is majority of the global container supplier. Chinese companies that account for 90% of global container volume. In
Vietnam, there are 2 companies with significant scale total 80,000 twenty-foot equivalent unit containers a year.
At end of February. 2021, Vietnam's steel marker ( Hoa Phat Group) announced they will produce cargo containers based on a recent assessment of market demand. We also informed to our value customer last December 2020, the shortage of empty containers that caused the cost of shipping increasing high. They plans to manufacture 500,000 twenty-foot equivalent unit containers a year to mitigate a shortage since containers are stuck at ports after Covid-19 hit trade.
They research that the southern region has an especially high demand for container. It plans to build its first container manufacturing factory in Binh Duong or Dong Nai province and near Cat Lai Port in Ho Chi Minh City and Cai Mep – Thi Vai International Port in Ba Ria Vung Tau Province. Production will start in Q2, 2022.
This is the good new for logistics sector. It is suffering from a severe container shortage since many remain in various ports around the world, unable to offload their goods, while demand for containers to export to Europe and the U.S. is high.
We believe that increase container production will support to us for delivery over the world from Vietnam.
We are pleased to support you as always.
Ao Dai - Traditional costumes of Vietnam
Vietnamese are taught in school that we are descendants of the fairy dragon. Vietnam is an S-Shape country, endowed with nature, including the fertile Mekong Delta in the southern provinces.
There are 54 ethnic groups din Vietnam, each of which has unique and specific styles of clothing. Unlike the colorful dressing of ethnic people on the plateau, the traditional costumes of plainsman tend to be very simple and modest with different dressing styles in Northern and Southern Vietnam.

The Kinh people has the largest population with more than 82 million people, accounting for 85% of Vietnam's population. The most popular and widely-recognized of Kinh costume is "Ao Dai", which is worn nowadays mostly by women on special occasions such as weddings and ceremony. Nowadays, white Ao Dai commonly can be seen with high school girls in Vietnam or some female office workers like receptionists, secretaries, tour guides.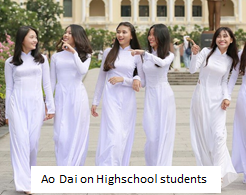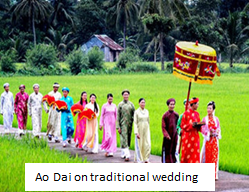 For a very long time, the traditional Vietnamese styles are now gradually changed along with social development. History of Ao Dai is also an interest story that we will introduce you in our future blog. In Ho Chi Minh City, there is a Ao Dai's museum located at Dist. 9. We can see about 300 samples of Ao Dai there.
We would like to introduce you more information about history, culture and people in Vietnam. We expect you will be impressed and take time to have a chance to discovery our country.

We are pleased to support you as always.


---