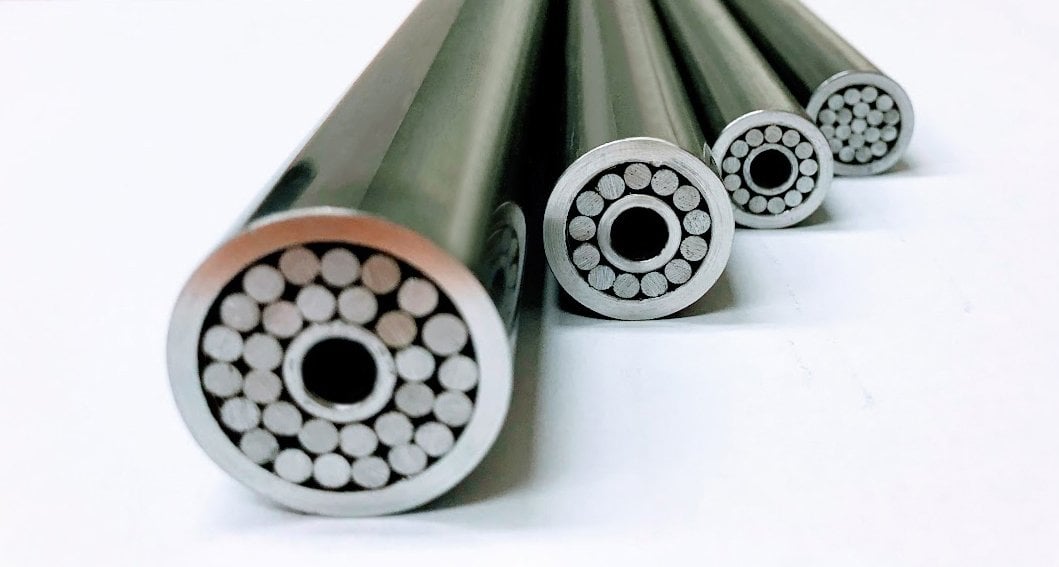 DAIWA THERMIC LANCE (TL) is steel pipe filled with wires or a mixture of wires and an inner pipe, when burning generates powerful flame up to 4,000°C without noise and vibration to break up materials quickly. This product is mainly used for burning and cutting large iron castings, stainless steels, brass, non-ferrous metal, refractory materials, concrete, ceramic, natural stone, etc... with high efficiency and productivity.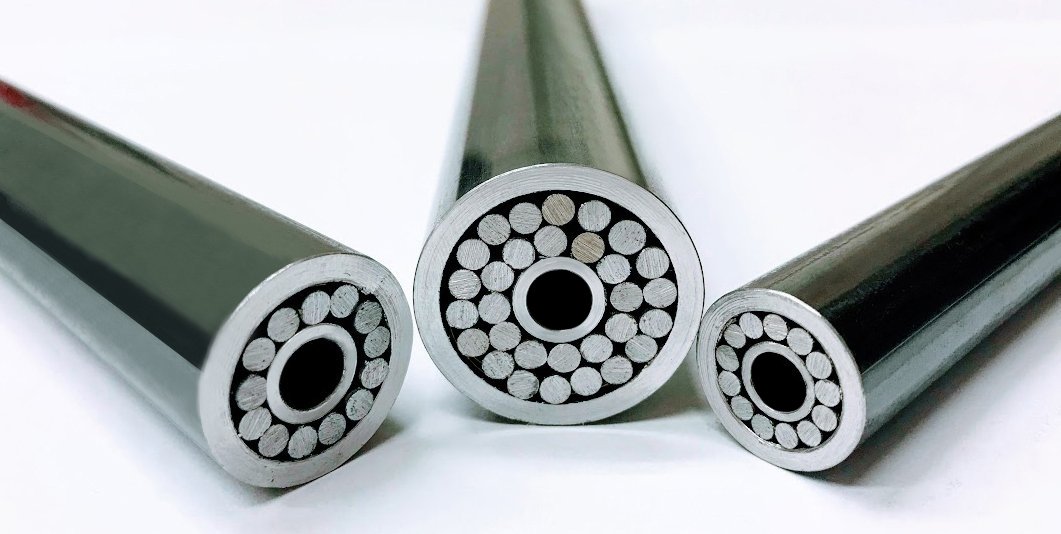 A super burning for heavy gage scrap cutting
Thermic Lance is steel tube that to be used for fusing the metals and so on. The principle is that harness the oxidation heat of high temperature by provided the pressurized oxygen to inside ignited steel tube. Generally inside of metal tube contains steel wire that promotes the combustion.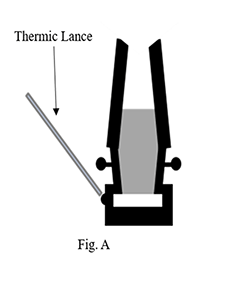 1. Opening iron notch and tap hole of blast furnace, electric furnace and cupola (Fig A).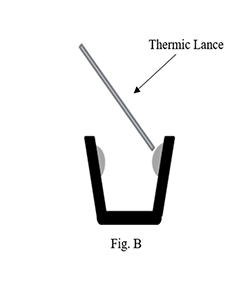 2. Removing of metal and slag stuck to mixer car (Fig B).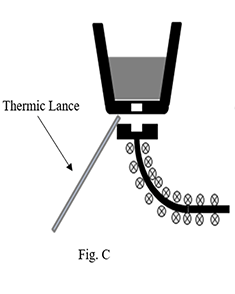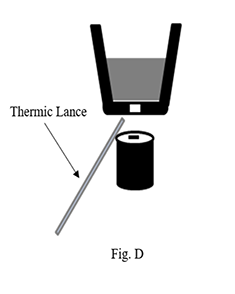 3. Cleaning ladle nozzle and tundish nozzle in continuous casting equipment (Fig C,D).
※Others uses
- Removing deposit metal from converter or electric furnace.
- Fusing and cutting steel piles and large scrap objects.
- Cutting and clearing solidified spillages of metals.
- Cutting and drilling fire brick, refractory materials, concrete and natural stone.
By using Threaded Socket to connect two thermic lances together. Another way for connection is to use Quick Coupling to connect two thermic lances together. This is a simple and easy way without any tool is requied.
1.
Wear the protective equipment of provision correctly.
2. Above Fig. was shown the connection example of equipments.
3. The pressure of oxygen should be 8-12bar by oxygen regulator.
4. Make sure that there are no leaks from hose, coupling and joint.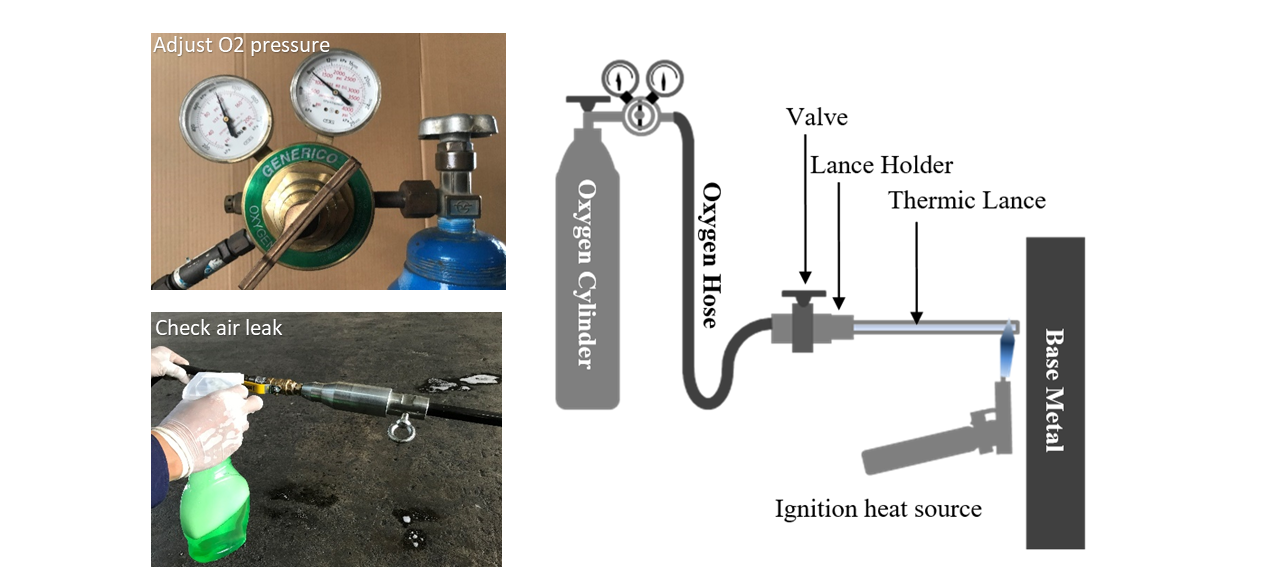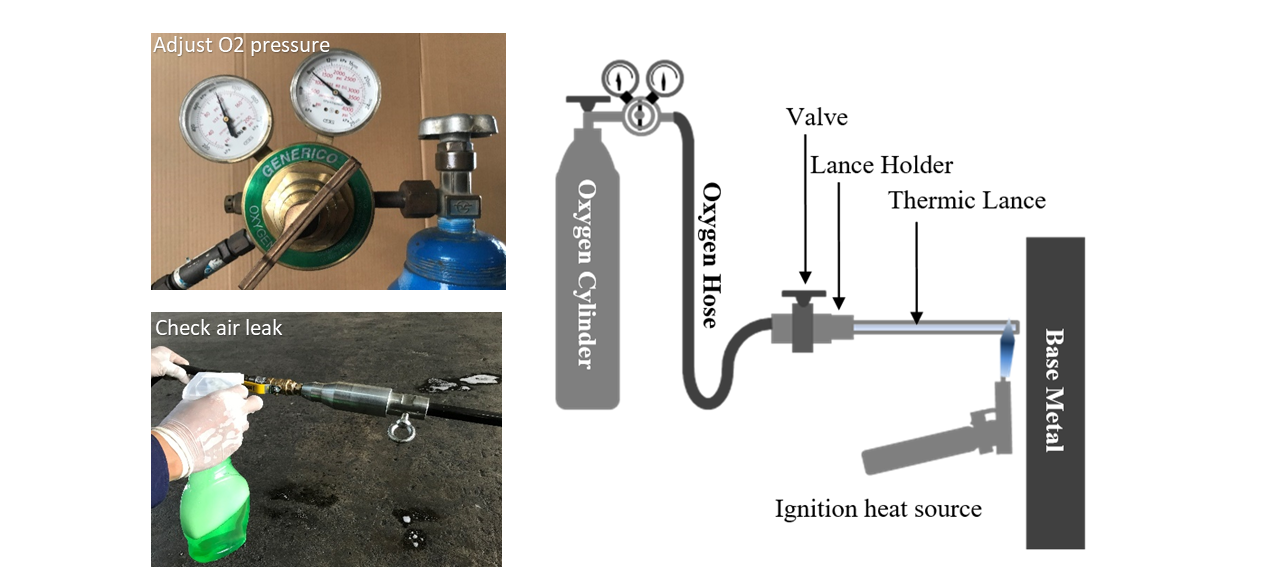 Type of Daiwa TH Lance
| Type | Description |
| --- | --- |
| T | Type T with a mixture of wires and an inner pipe produces a straight flame at high speed that can splash out, make holes or break up materials quickly. The materials suitable for Type T are carbon steel, iron, slag, copper, aluminium, brass, etc. |
| W | Type W with a fully pack of wires produces a wider flame at higher temperature than Type T. Its distinct feature is to dissolve solid materials that have high melting points such as stainless steel, nickel, concrete, refractory materials, nature stone, etc. |
Standard Size of Daiwa TH Lance
Type T
Outside Diameter
(mm)
Inner Diameter
(mm)
Weight
(kg/m)
Sample of Section view
12.9
2.8
0.794
13.8
2.8
0.903
16.0
3.0
1.25
17.3
4.5
1.47
21.4
6.5
2.13
21.7
6.5
2.13
26.5
6.5
3.33
27.2
6.0
3.63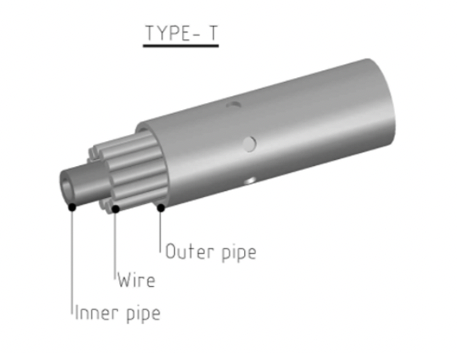 Type W
Outside Diameter
(mm)
Thickness
(mm)
Weight
(kg/m)
Sample of Section view
10.0
1.0
0.480
12.9
1.6
0.701
13.8
1.6
0.908
14.2
2.0
1.00
16.0
2.0
1.30
17.3
2.3
1.52
19.1
2.0
1.93
21.4
2.8
2.40