We would like to send our best wish to you. Thank you for your interest in following our information. Hopefully our news will be helpful and will inspire you about our people and our country.
Today's topic is:
・Daiwa Calorized Concrete Lance
・Steel measurement unit
・Motorbikes: popular vehicle in Vietnam
We are always with you.
Daiwa Calorized Concrete Lance
Daiwa Calorized Concrete Lance is used for the application which requires super heavy duty heat resistance and long life such as oxygen or inert gas blowing into molten metal of electric furnaces, holding furnaces, etc.
Characteristic of this Lance is withstands severe heat resistance and high temperature oxidative corrosion.
Main component   : Al2O3 75%, SiO2 20%
Size(example)    : 25Ax2.75m Concrete thickness 10mm
For any further assistance in specification size and length,
We will always do our best to serve for you.
Steel measurement unit
We have 3 kind of ton to measure steel products. Today we will briefly explain the measurement unit as mentioned below.
Short Ton – The Short Ton was originated in the North American Continent, it equals to 2000 pounds or 907.18 Kilograms of mass measurement, and has been used by countries like the United States of America, Greenland, Canada, Mexico, Cuba, Jamaica and others. Over time it was then less preferred by other supporting countries due to uniformity with their own systems.
Metric Ton – The first known use of Metric Ton was done in 1864, it equals 2204.6 pounds or 1000 Kilograms of mass measurement, it is the most commonly used means of measurement in the current era, most of the English-speaking countries use them actively. The main advantage of using it is that they are easy to use and not tough in conversions.
Long Ton – Also known as Imperial Ton, arises from the traditional British measurement system, it equals to 2240 pounds or 1016.04 Kilograms of mass measurement, it was preferably used by the United Kingdom, and other British commonwealth nations like Australia, New Zealand, and also by Canada. The major disadvantage of this measurement system is its difficulties with conversions.
For any further information, please do not hesitate to contact us by click for a inquiry.
We will do our best to support you.
Motorbikes: popular vehicle in Vietnam
Motorbikes are a popular vehicle in Vietnam. In 1990 there were about 1,209,000 bikes. In 2018, the number of people using motorbikes was up to 58,170,000 bikes, the rate has increased by about 48 times. Because motorbikes are the main means of transportation, in big cities in Vietnam like Hanoi and Ho Chi Minh City, traffic jams at peak hours are very common.
There is no electric vehicle system connecting cities. Only the North – South railway is been running since 1936 which start from Hanoi capital to other cities such as: Nam Dinh, Thanh Hoa, Vinh, Quang Binh, Hue, Da Nang, Nha Trang, Phan Thiet, Bien Hoa and the last terminal is Ho Chi Minh city. We expect the subway project of Ho Chi Minh city, Metro line No. 1 in HCMC will open in 2022, length 19.7 km hopefully would be recognized as the highlight of the city.
We think Vietnamese will still use bikes as the main transportation because of the convenience and ease of parking in future.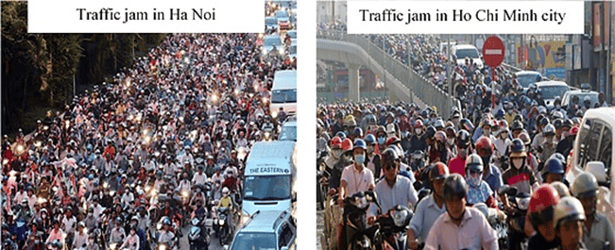 ---