Steel production uses a lot of fossil fuels, but there are some decarbonization options on the horizon. The steel sector is one of the most significant CO2 emitters, accounting for 6–7% of worldwide greenhouse gas emissions. Hydrogen generation consumes 2,633 kwh every ton of crude steel produced from iron ore, with the direct reduction and EAF facilities consuming an additional 816 kwh. Without further deployment of renewable power assets, the global power system has clearly reached an inflection point where decarbonization of steelmaking is achievable.
With the concern on carbon dioxide footprint and the increasing proportion of steel scrap yearly, many countries are on the journey to switch to EAF for steel production.
There are types of consumable products supporting steel production one of them is steel pipe. Steel Mills are using Mild steel pipe as one component to produce steel in melting and refining process. However, due to the raise of EAF, alternative choice is put in consideration for better performance and cleaner environment. How we say it this way, let us show you in this blog.
Steel pipe for Melting and Refining Industry
Mild steel pipe, commonly known as "low carbon steel," is a form of carbon steel having a low carbon content. Because mild steel pipe lacks alloying components like those found in stainless steels pipe, the iron in it is susceptible to oxidation (rust) if not properly coated. However, the small amount of alloying elements in mild steel makes it comparatively inexpensive when compared to other steels. The price, weldability, and machinability of this steel make it a popular customer choice.

Daiwa Calorized Lance (CA Lance) is the calorizing coated steel pipe used not only for melting steel or refining steel by blowing oxygen gas, but also for the injection of carbon, lime, and/or other additives. Another usage is to remove slag inside oxygen converter, or other uses which require strong resistance against heat, oxidation, sulfuration, vanadium attack, etc.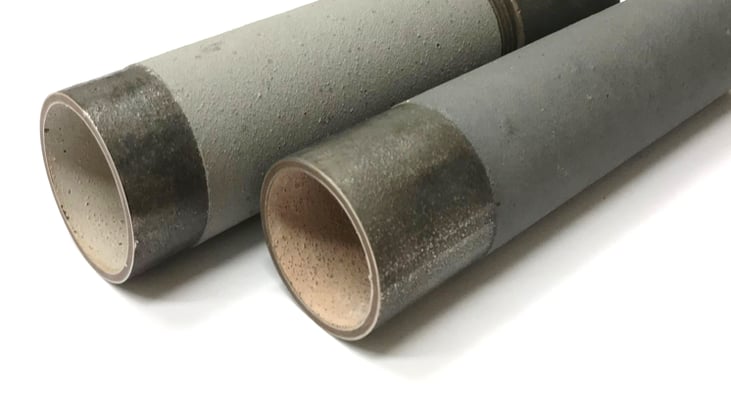 We provide the Calorized layer and Ceramic coating both outside and inside of the pipe with the intention to make it stand for a much longer time than normal carbon steel pipe. And this is why Calorized Lance becomes a good option for oxygen or carbon injection in the steelmaking process.
Effectiveness of CA Lance pipe
Daiwa CA Lance can last 3 to 10 times longer than mild steel pipes depending on the conditions in which the lance is used. We did an experiment to see how our Calorized lance differs from normal Carbon steel pipe by testing both types under high heat at 3,000 Celsius degrees flame. The result shows that Carbon Steel pipe is melted down in 20 seconds. In the meantime, Calorized lance has a longer lifespan up to 151 seconds.
Understand the concerns of end-users on effectiveness, we consider all steps from the initial to final step of using CA Lance pipe that could raise up the performance of usage and cost saving. Whether it's related to transportation, delivery, labor cost, or even time to reheat the furnace. Those steps considered to be put in the account are:
Shipping Cost
Unpacking and Loading to stock pipes
Stocking Labor Cost
Moving pipes to the Furnaces
Labor Costs on Changing pipes
Reheating Time of EAF
Additional Possibilities

Please feel free to contact us, so we can share with you further advice to use the pipe effectively and safely.
Contribution for better Environment | SDGs
All manufacturing on Earth must decarbonize, and we are committed to lowering carbon dioxide emissions from the steel production process by offering our CA Lance to clients. Following The Human Rights Guide to the Sustainable Development Goals (SGD), Daiwa Lance is on a quest to safeguard the environment while also growing its company.
By reducing the number of pipes used by end-users, our device can help to save natural resources, following Goal No.12.2 of SDGs - "Achieve the sustainable management and efficient use of natural resources".
In the meantime, CA Lance also can provide less time to connect pipe, this can contribute to reducing working time in front of EAF with a lower chance of labor accidents, contributing to Goal No.3 of SDGs - "Ensure healthy lives and promote well-being for all at all ages".

We know that many firms are switching to build business with less carbon dioxide to safeguard human beings and living things on Earth as part of the worldwide goal. Allow us to accompany you in your quest to create a more peaceful, joyful, and clean planet.
---