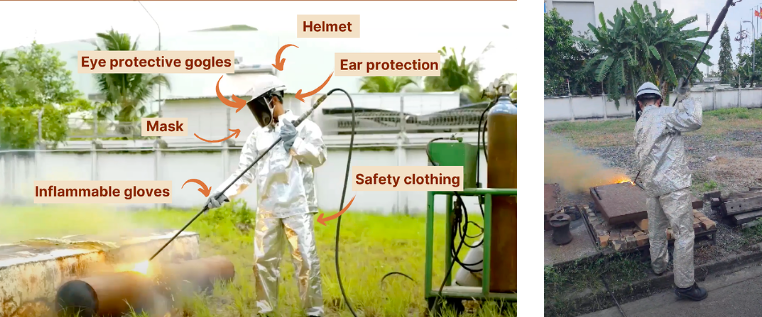 Daiwa Lance manufactures Thermic Lance (TL) as one of our high-performance products, and having
knowledge to actually use Thermic Lance properly is a challenge. The users have c
oncerns about safety due to the high heat generated by Thermic Lance, also find an optimal proposal from the manufacturers of furnace pipes with the aim of improving the production cost efficiency.

Based on our previous experiences, we can provide clarity on the compatibility of existing equipment with the appropriate size of Thermic Lance by introducing to customers the appropriate size based on actual testing.
In this blog, we are going to introduce the safety guide for Thermic Lance Operation and some advice to operate with safety guide.
Prepare Safety Tools and Operating Equipment
One of the initial tips to using Thermic Lance with effectiveness is to prepare all necessary safety equipment to protect the operator during processing time. Also, the position of the operator is somehow closed to the area of cutting scraps in a scrap yard. Therefore, preparation is definitely a crucial step for highly effective protection.
When safety tools are all set, the operators will check the Oxygen Sources with precise Oxygen Flow and Pressure Levels as the second step for safety. The adjustment will be controlled by Oxygen Regulator and Oxygen Hose as well. This step will help the operator before sticking the Thermic Lance to the whole system.
Adjust Ignition and Handling Position
The most crucial part of the 3 tips is the way of carefully setting up the Holder, connecting the Thermic Lance, and standing correct position to operate.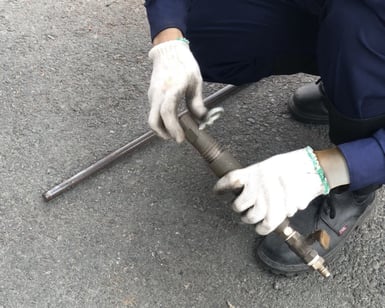 Step 1: Set up the Holder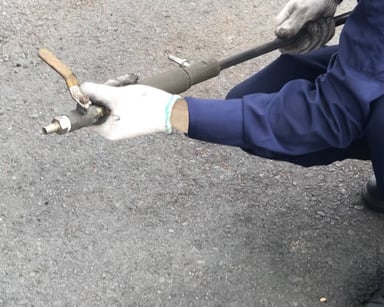 Step 2: Connect Thermic Lance to Holder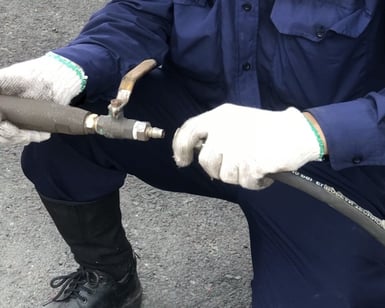 Step 3: Connect the Oxygen pipe to the Holder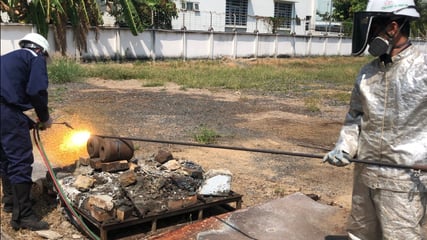 Step 4: Use an acetylene torch to heat one end to red hot, then start blowing oxygen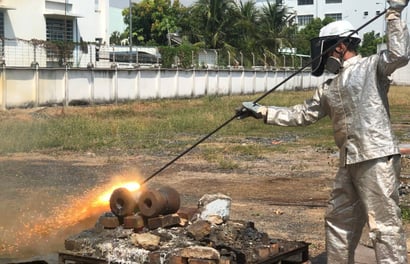 Step 5: Keep safety distance and Keep Thermic Lance at around 60 degrees angle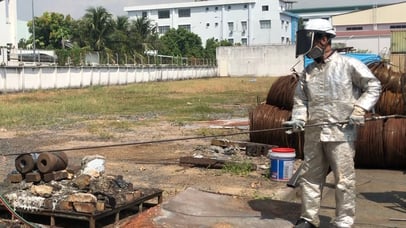 Step 6: Connect to the next piece of Thermic Lance in terms of continuing cutting
You can see the types of connections of Thermic Lance in the upcoming part in case you keep continuing Step 6.
Connect Thermic Lance
Some customers use Thermic Lance with one piece with no connection, but many customers prefer to use connect with Thread & socket.
1. Use with no connect
Plain ends -- Some customers prefer to use plain ends Thermic Lance when one piece is enough to complete the job.
Plain ends drawing:

2. Use with thread & socket
Thread & socket – Many customers use this way to connect Thermic lances to each other, no need to waste half the used THERMIC.
Threaded and socket drawing:

3. Use quick coupling
Easy connection type. You just hit Thermic Lance and couple together to the wall or floor a coup of times then connected. Most popular size for this quick coupling type is ¼"(OD 13.8mm) x Length TYPE-T.

Recommecdation of using Thermic Lance
After burning and using Thermic Lance, the tube will shorten closer to the Holder. Keeping a moderate distance is very crucial to keep safety for the operator. For oxygen pressure from 8 to 10 bars, the remaining length of Daiwa Thermic Lance recommended is leaving about 1 meter to achieve safety.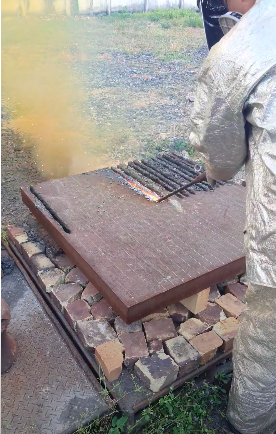 Depending on the gas pressure adjustment, size of TL, type (Type T or Type W), and the intended use of the Thermic Lance, we recommend that you should contact our technical department directly for various advice, for the safest and most effective usage.
Conclusion
Due to the great heat produced by Thermic Lance, users are concerned about their safety. In order to reduce production costs, furnace pipe makers develop an ideal solution for consumers. We can introduce to customers the suitable size based on actual testing and, based on our prior experiences, provide clarification on the compatibility of existing equipment with the proper size of Thermic Lance.
Please let us support you with additional questions you are having and feel free to contact us through the inquiry page below.
---