Vietnamese water puppet (Vietnamese name: Múa rối nước) is a traditional folk art originating from the Red River Delta area of Northern Vietnam around the 11th century. Because of its significant artistic features, the country's best water puppet troupes were often chosen to entertain the king and his guests in the feasts. Here's a brief introduction to one of the oldest forms of art in Vietnam.
Backstage Performance
The art of traditional Vietnamese puppetry is closely associated with wet rice agriculture and the enlightenment of Buddhism into Vietnam in the earliest stage. It substantially differs from the ordinary puppetry in which the artists need to use the water surface as a stage (called a puppet house or water house) and cover the surroundings with flags, fans, elephants, parasols, etc. The puppet shapes are usually funny and highly symbolic based on Vietnamese historical figures.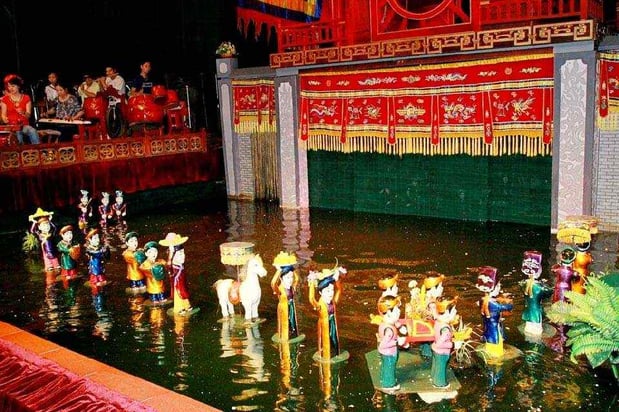 On this stage, all the puppets made of lacquered wood will be the controlled by the artists behind the scene through a system of poles and strings. The success of the water puppetry mainly depends on the movement of the puppet body and its humorous play scripts.
Places and theaters to enjoy water puppet shows
The methods about how to make a fantastic water puppet performance remain secret and only run in family members for several generations. For that reason, even though you can easily find the places where water puppet shows take place, it would be a miss if you leave below destinations out of your must-visit theaters in Vietnam.
1. Thang Long Water Puppet Theater (Ha Noi)
2. Hoi An Theater (Central region of Vietnam)

3. Golden Dragon Water Puppet Theater (Ho Chi Minh City)

---