We trust you are well. Thank you very much to your attention to our Blog news as always.
Today, we would like to introduce you the flowers that can be processed into Vietnamese dishes.

Ban flower
Ban Flower is a signature flower of Vietnam's northwestern mountain region. Blooming in the spring after the Lunar New Year in the provinces of Son La, Dien Bien, Lai Chau, Yen Bai.
Flowers bloom around March and April every year. This pink and purple phoenix flower with thin petals not only creates a beautiful scenery for the Northwest mountains but also the soul of Thai ethnic cuisine here.
If you come to the Northwest in the right flower ban season, you will enjoy famous specialties such as fried ban flowers, sticky rice cooked flowers, hoa ban porridge, hoa ban soup, etc. If you want to eat delicious food, you should only use flowers that have just been picked from the forest, and no matter how you process the flowers, they must be boiled in hot water. When eaten, this flower brings a cool, fresh taste like a green vegetable.
Thien Ly Flavor
Thien Ly flower, also known as Da Ly Huong, has long been considered a flower to prepare dishes used in family meals and in restaurants. This flower is not only grown in Vietnam but also found in many places such as China (Guangdong, Guangxi), India (Kashmir), Myanmar, Pakistan, Vietnam; Europe, North and South America.

The processor picks out large bunches of flowers. After washing, soaking in water, then pruning into small, mouth-watering clusters and then processing many dishes such as Thien Ly flower soup with bones, minced meat or crab.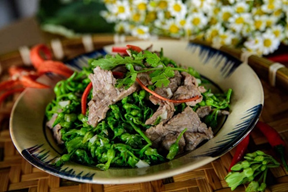 In addition, flowers stir-fried with beef or used with hot pot dishes are also very special. Not only is this a nutritious food, this flower also has a cooling effect, helping to sleep well.

Banana flower – A very traditional dish of 3 regions in Vietnam
Traditional and familiar dishes all over Vietnam. Banana flowers can be used as a salad, boiled to eat together with fish sauce or served as a vegetable dish with hot pot.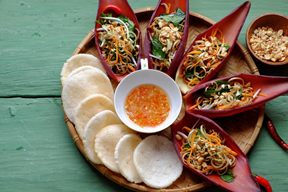 Banana flower salad, or in the South, called banana flower salad is a specialty dish at Vietnamese restaurants. This dish has a harmonious taste between the four flavors "salty, sweet, sour, spicy", when eaten, it has a slightly acrid aroma of banana flowers, herbs, the crunchy feeling of pig's ears and a little bit of peanuts. with sweet and sour fish sauce, making it hard for people to forget.
We are pleased to support you as always.
---