We trust you are well. Thank you very much to your attention to our Blog news as always.
Today, we would like to introduce you the how to make a delicious Cafe's Vietnam.
Introduce Cafe's Vietnam
Vietnam ranks second in the world in terms of coffee production. Vietnam's coffee exports are about 25 million bags/year with an average value of 3 billion USD. Coffee has become an inevitable part of Vietnamese life. In big cities like Hanoi and Ho Chi Minh City, the "coffee toad", coffee on the train line... becomes interesting in the eyes of tourists.
In Vietnam, coffee is a popular, popular drink that Vietnamese people love every day. Coffee helps to connect relationships from family to work and friends. Coffee shops are the most popular space after home and work.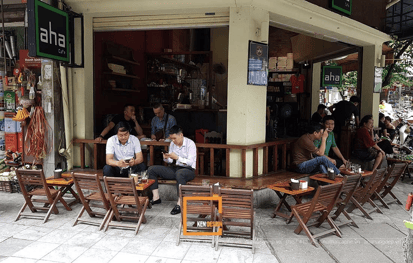 In addition to its large export volume and distinctive coffee culture, Vietnam is also known for its quality coffee sources. About 97% of Vietnam's coffee beans are robusta with a strong, bitter taste and high in caffeine. Robusta coffee beans are often used to process instant coffee. Vietnam is the world's largest exporter of Robusta coffee, the outstanding feature of this coffee variety is its very high caffeine content, accounting for about 2-4% of coffee beans
How to make delicious coffee?
Delicious coffee making is as follows
1.Use a coffee powder equivalent to 50-60% of the filter height.
2. Lightly shake 1-2 times to make coffee with the face and then use a block to gently press down on the powder to push the coffee powder together.
3. Pour a little boiling water into the bottom of the filter and 20% water on the surface of the filter, wait for the boiling water to permeate the coffee and the coffee has time to bloom for about 20 seconds.
4. Pour very hot boiling water into the filter, pour gently from the inside out. Pour about 80-90ml of water almost full filter.
5. Close the lid and wait, the original coffee powder will take a little time to absorb water and absorb to expand, then it will release caffeine. In the first stage, the coffee water will not drip immediately into the filter, but after only about 2 minutes, the coffee will start to drip continuously into the cup.

We are pleased to support you as always.
---