We trust you are well. Thank you very much to your attention to our Blog news as always.
Today, we would like to introduce you the History of Ao Dai - Traditional costumes of Vietnamese.

The Four-piece
We call The Four-piece means a lot in honoring the beauty of the old woman, that is, people who need to work hard, even though they are rustic but very attractive. Not only meaningful to women, the design of the four-body shirt also has a special meaning. The front of the shirt has two flaps, behind the two flaps represent the father and mother four, the inner overalls represent parents holding their children in their hearts.
These four-bodied shirts often have natural colors, because mothers then use brown tubers, small crushed almond leaves or soft mud under the pond to color them. All of these have created a simple, delicate and discreet outfit with bold Asian nuances.
Traditional Ao Dai
Since 1802 the reign of King Gia Long onwards, the Nguyen Dynasty has completed the complete men's Ao Dai.
Ao Dai for men has two flaps that are too long, buttoned on the right side, usually sewn with brocade fabrics (for the upper class), while the middle class often sewn with satin, thin material. The original traditional men's ao dai had 5 bodies and 5 buttons, so it was often called the five-body Ao Dai.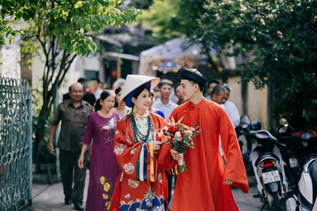 According to a researcher of culture and history: "After 1945, sewing five-bodied Ao Dai was very expensive, part of the country was still poor. After that, the wars lasted for the country to be made. Besides, the Westernization movement caused people to follow Western fashions that affected men's Ao Dai. Men's Ao Dai usually only appears in performances, traditional wedding only.
Modern Ao Dai
Along with the dynamic, changing trend of modern lifestyles, traditional Ao Dai is stylized by designers with shorter flaps, changes in collars, sleeves or even flaps or general wear. Ao Dai gives Vietnamese women many choices. It is also because of this stylization that the Ao dai is more and more worn by Vietnamese women in everyday life.

The Ao Dai is not only worn for women or on special occasions. In Vietnam, images of female students in white color of Ao Dai can be seen at any time. On the occasion of Tet, the children are also allowed to wear Ao Dai to take souvenir photos.
We are pleased to support you as always.
---