We trust you are well. We are pleased to support our valuable customers with the information of our products.
We hope this information will help you for more understanding of our products. We thank you for your interested in our BLOG.
Today we are introducing about Daiwa Thermic Lance - Connection type
What is Daiwa Thermic Lance?
THERMIC LANCE is steel pipe filled with wires or a mixture of wires and inner pipe, generate flame up to 4,000℃ by oxygen blowing.
THERMIC LANCE is used for many applications as below.
Applications: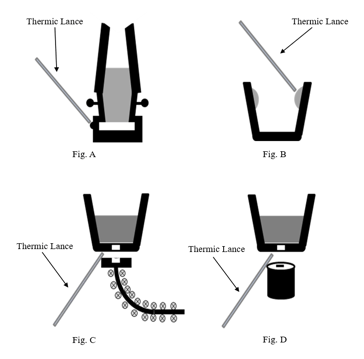 ・
Opening iron notch and tap hole of blast furnace, electric furnace and cupola (Fig A).
・Removing of metal and slag stuck to mixer car (Fig B).
・Cleaning ladle nozzle and tundish nozzle in continuous casting equipment (Fig C,D).
・Others use:

Removing deposit metal from converter or electric furnace.

Fusing and cutting steel piles and large scrap objects.

Cutting and clearing solidified spillages of metals...ect.
Connect Thermic Lance ?
Do you connect Thermic Lance when you use ?
Some customers use Thermic Lance with one piece with no connect, but many customers prefer to use connect with Thread & socket.
1. Use with no connect
Plain ends -- Some customers prefer to use plain ends THERMIC, when one piece enough to complete job.
Plain ends drawing:

2. Use with thread & socket
Thread & socket – Many customer use this way to connect THERMIC LANCE each other, no need to waste half used THERMIC.
Threaded and socket drawing:

3. Use with quick coupling
Easy connection type.
Just hit THERMIC and coupling together to wall or floor a coup of times then connected.
Most popular size for this quick coupling type is ¼"(OD 13.8mm) x Length TYPE-T.

---