Firstly, we would like to extend our gratitude towards our customer as well as our relative partners who have shown great interest in our BLOG. We would be happy to seek your opinions and ideas to improve our BLOG day by day, if you have any question for Daiwa Lance, then we would request you to please feel free to contact us.
Today's topic is:
・ Daiwa CA Lance - smooth feeding with manipulator
・ Steel market move
・ Covid-19 vaccine made in Vietnam
We are always with you.
Daiwa CA Lance - smooth feeding with manipulator
We would like to introduce Daiwa CA Lance - 32A x 3.4m, TYPE-7. Smooth feeding with a manipulator.
Let us ask you, do you face any troubles while feeding through lance pipes?

We produce threaded type Lance pipe, in this the threaded part is made smaller, and the outer diameter of the socket and the outer diameter of the pipe are almost the same.

Characteristic of this Lance :
Since the outer diameter of the pipe and the outer diameter of the threaded socket are almost the same, the Lance manipulator can continuously feed the pipe smoothly without worrying about the load in the furnace.
As a result, the pipe insertion work into the furnace can be performed smoothly and efficiently.
For any further assistance in specification size and length, please
click here
to give us your inquiry.
We will always do our best to serve for you.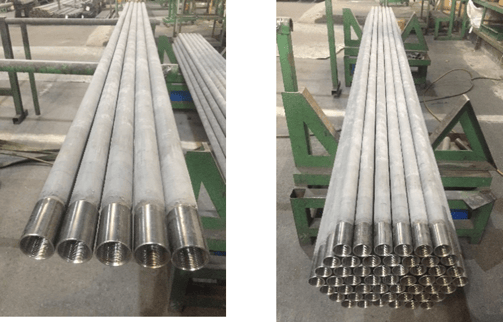 Steel market move
We are delighted to share brief updates on different regions...

Japan - Japanese steel pipe producers announced JPY 15,000/MT(US$ 146/mt) price up from March/April together with their previous price up announcement in December JPY 5,000/MT (US$ 49/mt), their total price up is so far JPY 20,000/MT(US$ 193/mt).

Asia - We see a possibility of steel material price adjustment in China in the 3rd week of January, mainly because of the spread of CODIV-19 in the Northern Part and it being close to Lunar New Year Holiday. This year is going to be a special year for China , they will have a 100 year anniversary for the Communist Party in the month of July and most of the economists are expecting the steel product's demand and price to keep up strong.

Europe – The domestic prices of Hot Rolled Coils (HRC) in Northern Europe have increased by EUR 21/ton, this has happened just after a week to the announcement of ArcelorMittal Europe increasing the price to EUR 700/ton EXW. The prices of HRC in European domestic markets have increased subsequently by EUR 81/ton in just 1 month starting from early December.

North America - The price of Hot Rolled Coil (HRC) in the US was quite volatile at the end of the first week due to tight supply. There has been a significant price drop of 3.8%, on December 31st the price was USD 1,192/ton FOB mills and on January 08th it reduced to USD 1,146/ton FOB mills. We think we might see such corrections in near future as well.

Central & South America – The Brazilian steel mills had announced a price increase for rebar at an average of 12% for January deliveries, it has already reached a record-high USD 840/ton. We believe the increase is inspired by the strong recovery from the construction sector.
Covid-19 vaccine made in Vietnam
Today we would like to share about the situation of research and manufacturing of vaccination for coronavirus in Vietnam.

As you know, at the end of Dec. 2020, the first vaccine of Vietnam was tested on humans, Nanocovax was made by the Nanogen Pharmaceutical Biotechnology JSC. At the first phase of the trial examination on humans, there were 60 volunteers (aged from 18 to 50). The second stage will be scheduled after the Lunar New Year 2021.

Another vaccine is Covivac which is produced by Nha Trang Institute of Vaccines and Medical Biologicals. It was announced on January 21st, 2021. The first phase is expected to finish by April and hopefully, the research and completion of tests and human trials on volunteers will be completed by the middle of the year 2021.

These vaccines are good news for us as Vietnamese people will pay a reasonable price for the vaccines when compared to the global price range.

Vietnam was one of the countries which had positively controlled the spreading of corona disease in the community, and now with this great effort to create the vaccine in Vietnam, we can surely trust in the success and development of our country.

We are pleased to support you as always.

---