Transporting goods over long distances is not an easy task, especially for the product like oxygen lance pipe.
With many years of experiences in manufacturing oxygen lance pipe in Vietnam to more than 350 customers in 50 countries worldwide, we're going to tell you about standard types of packaging for FCL/LCL shipment and the reason why we use them to prevent damages during shipping process.
FCL Shipment
FCL (Full Container Load) is a sea shipment in which the shipper can load their goods in the entire container without the need to consolidate goods from other shippers. Even though shipping containers nowadays are made strong enough to withstand the harsh and extreme weather conditions, other impacts such as deformation due to mishandling, moisture, rain fall or water vapor can still penetrate into the oxygen lance pipe and damage its quality heavily.
To remove the worries of customers about all the possible risks during transportation, we cautiously wrap the bundles of oxygen lance pipes with blue sheet that you can see below.
Blue Sheet Packing
The distinguishing feature of blue sheet is its resistance to moisture and water vapor. With strong mechanical impact owing to fibers in the vertical and horizontal directions, blue sheet can secure the cargo better and used for standard export packing for Daiwa CA Lance.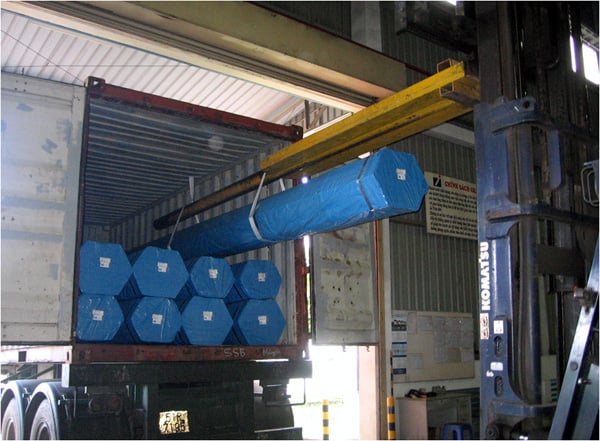 Picture of FCL shipment loaded into container at Daiwa Lance factory
LCL Shipment
LCL (Less Than Container Load), as its name suggests, is a sea shipment in which more than one shipper could stuff their goods into one container. The risk of damages, therefore, could be higher by all means.
Improper stowage or mishandling could occur when:
The cargo delivered to CFS yard where terminal operators take care of vanning.

The cargo loaded or unloaded at transit port.

The cargo de-vanned at destination by port workers.
To prevent shipping damages in mentioned cases as above, heavy duty packing solutions become indispensable.
Fully metal covered packing
For LCL, the loading and unloading from one container to another container is very dangerous and can damage the products a lot. If oxygen lance pipe is required to have thread or socket portion, the protection is even more important because customers will use the lance pipe to connect two pieces together to ensure sufficient distance from hot melted iron. In this case, fully metal covered packing will be highly recommended.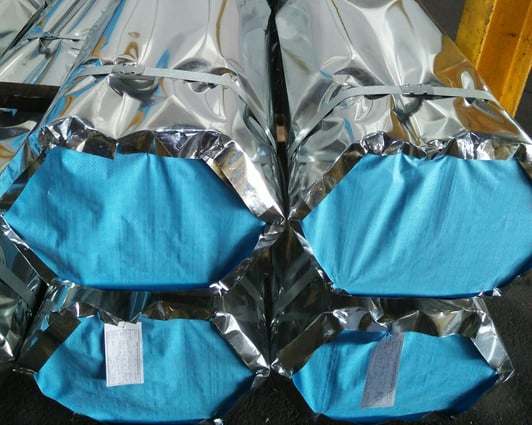 If you are interested in our products, please feel free to contact our sales agent or our sales department.
Leave your message by clicking below so that we could answer all of your questions as best as we can.
---