On the occasion of the Lunar New Year, we would like to send the best wishes to our customers. Wishing you a happy and prosperous to you and your family.
※Our company will be closed for TET holidays from February 10 to February 17. Thank you for your attention.
Today's topic is:
・ Lunar New Year (TET) holidays in Vietnam
・ Daiwa CA Lance - Connection method
・ Steel market move
We are always with you.
TET holidays in Vietnam
Lunar New Year or TET holiday, is a great Vietnamese festival. This holidays are starting in spring of January or February of Vietnamese Calendar.
Every year, many big cities and provinces in the country organize many activities and street decorations to create their own distinctive and outstanding features for the biggest and longest holiday of the year. The employees are also entitled to take a week off on this occasion.
In Ho Chi Minh City, Nguyen Hue street is the place to invest in decorating the most prominent flower street of the city. This year, the buffalo is the design of zodiac for Flower street.
Nguyen Hue street flower festival opens from December 28 of the lunar month and closed on the January 4th of TET. People in the city and neighboring provinces all came to visit and take souvenir photos here.

Daiwa CA Lance - Connection method
We would like to show 2 kinds ways to connect Daiwa CA Lance pipe as below.
A) Thread and socket
Connect pipes with thread and socket by using pipe wrench
・Only pipe wrench required, no other special tool.
・Need time to connect pipes.

B) Connect with Threadless coupling
Connect pipes using sleeve and crimped by the machine.
・Easy connect.
・Need to use crimping machine

※We can supply our Daiwa Press Machine for crimping purpose.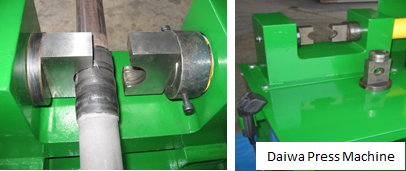 We will always do our best to serve for you.
Steel market move
We are delighted to share brief updates on different regions...
Japan – As on 29th January, the prices for Rebar in Japan's domestic steel market has grown by Yen 2,000/ton (USD 19), meanwhile the price for steel scraps were also seen to drop continuously an impact due to a direct fall in demand from mini-mills since mid of January.
Asia –China's major rebar supplier has announced to continue holding its long steel listed prices for domestic sales over the month of February. They usually carry price holds for 10 days but due to Chinese New Year Holidays, they have intended to extend it for 20 days.
Europe –Steel price still up trend and strong. Major steel mill in Europe announced price up for flat product and the price went up to €750/ton (USD 905) level now and they will re-start blast furnace in February.
North America –As per a report of Nucor Corporation, USA, the demand for flat steel products and long steel products will increase in the 1st quarter of 2021, subsequently increasing their profitability, this analysis is made while projecting promising and favorable market conditions in the near future for the steel sector in the region.
Central & South America –The Brazilian flat steel producers are constantly hit by shortage of supplies, this has made them to increase the price by 10% for the month of February.
We are pleased to support you as always.

---