We trust you are well. Thank you very much to your attention to our Blog news as always.
Today, we would like to introduce you about some historic sites in Ho Chi Minh city.

History
District 5 in Ho Chi Minh city is known as the street with the largest concentration of Chinese people. In 1778, it established a separate city from Saigon, it was also called "Cho Lon" ( in English means Big Market). Coming to Cho Lon Street, you will have the opportunity to experience the typical Chinese culture that has been preserved here.

Located just west of the city centre, Cho Lon is Ho Chi Minh's historic Chinatown — the largest of its kind in all of Vietnam. For anyone visiting the sprawling economic hub of the nation, these chaotic boulevards and spider-webbing alleyways make a great day trip.

Cultural Attractions
Cho Lon today is not only famous for its flourishing trade but also a huge tourist spot thanks to many historical and cultural attractions. Many generations are living here. The Chinese community built schools, pagodas, and markets which created huge impacts on Ho Chi Minh's economy and culture.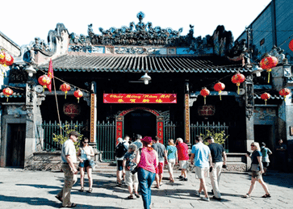 Many old temples in District 5 and District 10 such as Thien Hau Temple, Nhi Phu Temple and Quan Am Pagoda.
Cho Lon is also home to other religions like Islam and Catholicism that are still practiced in work ship places such as cho Lon Mosque , Church of St. Jeanne D' Arc. Beside, Fito Museum which is displaying several kinds of old Chinese and Vietnamese medicine
Cuisine of Chinatown
The cuisine of Chinatown is famous for their cooking skills which makes beautiful, savory and delectable dishes. There are plenty of restaurants in Chinatown that last through the decades and still reserve their own secret recipes.

You can easily find these dishes both locally or on the streets like roasted duck, noodles, dumplings and many kinds of desserts, especially in District 5.
We are pleased to support you as always.
---